Many companies in the aerospace, automotive, construction and electronics industries are using composite materials to reinforce plastic parts or replace metal stamping parts. The composite material can be glass, thermoplastic, phenolic or epoxy. When thermosetting resins melt, they will form permanent heat-resistant materials that cannot be modified without degradation. When thermoplastic resins melt, the materials they form will soften or melt when heated, and harden again when cooled. Thermoplastics have strong and lasting adhesion at room temperature, and can be softened by heating without losing strength or degradation.
The main process for forming thermoset and thermoplastic parts is thermoforming. What is thermoforming moulding?
Thermoforming is a method of forming large parts using pressure and heat. Generally, thermoforming mould need to withstand constant pressure and maintain for a period of time to form parts. First, the material is preheated and placed in the heated mould cavity. Close the mould, apply pressure to fill the cavity with the material, and maintain the heat and pressure until the moulded material solidifies. Common heating for thermoforming moulds includes electric heating, steam/hot water heating and oil heating. Since thermoforming uses heat and pressure to change material properties, it is suitable for forming complex, high-strength compounds for custom applications. Generally, these parts are lighter than metal and have an equal or greater strength-to-weight ratio.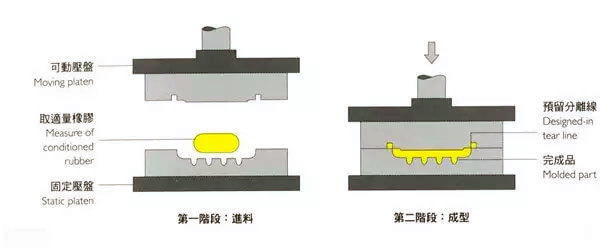 The main advantages of thermoforming mould
Single-step moulding process
Short curing time
Reduce investment (compared to injection moulding process)
Highly automated.
Applications using thermoformed products
The lower cost, versatility and adaptability of thermoforming make it ideal for many applications, including:
Automotive: dashboard, seat components, interior trim panels, bumpers and air ducts
Aerospace: air ducts, seat parts, interior panels, kitchen equipment and curtains
Structure: equipment shell, tool box, internal and external panels
Medical: Diagnostic and imaging equipment housings, bed and furniture components, auxiliary equipment, and walls and ceilings
Public transportation: interior and exterior trim panels, seat components, instrument panels and lamps
Office equipment: faxes, printers, computer and copier housings, switchboards, walls and ceilings, and furniture