LFT-D mold process characteristics
Join Date: 2022-06-07
Lft-d (long-fiber Reinforce Thermoplastic Direct), LFT-D mould is a process technology for the Direct production of products of Long Fiber reinforced Thermoplastic composite materials online. The key factor that distinguishes it from GMT and LFT-G is that the steps of semi-finished products are omitted. In material selection. It is also more flexible.
In LFT-D mold technology, not only the fiber content and length, but also the matrix polymer can be directly adjusted to the requirements of the final part. The amount of additive can change and influence the mechanical properties of the product and the properties of the specific application materials, such as thermal stability, coloration, uv stability, and fiber adhesion to the matrix, which means that each specific application can obtain its unique material formulation through THE LFT-D.
The typical process for LFT-D molds is that polymer matrix particles and additives are transported into a gravimetric analysis feed unit assembly that ensures proper mixing according to the mechanical properties of the component. The mixed material is plasticized into the twin screw extruder, and the molten compound passes through a film die head to form a polymer film similar to a waterfall, directly into the opening of the twin screw extruder. While fiberglass roving through the special design of roving frame, after preheating, dispersion process was introduced to the top of the polymer film, with film rendezvous in twin screw extrusion molding machine, by screw cutting roving, and gently mix them to advance of the polymer melt, and then directly into the mold molding.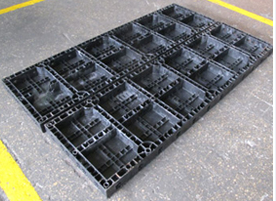 Dacheng mould is engaged in the design and manufacture of composite mould and has developed many LFT mould products. As an LFT mold supplier of automobile factory, Dacheng Mold has many years of research in LFT mold design and LFT mold process, and has a supporting LFT mold test line, to ensure that LFT mold from the initial design to the subsequent mass production to meet the needs of customers.