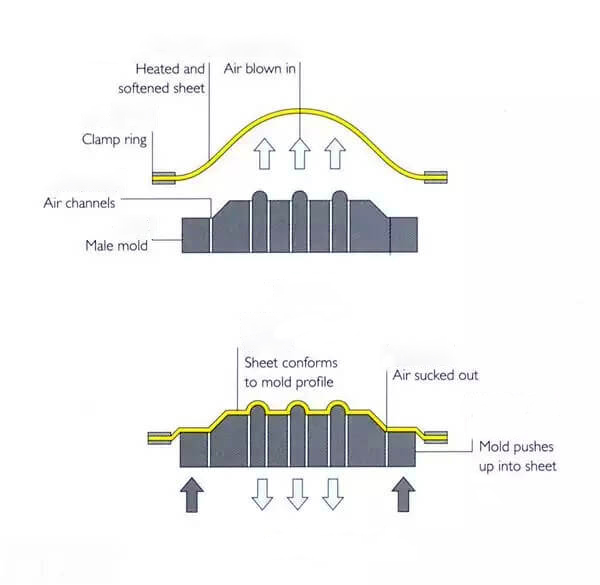 With the development of lightweight, when the weight of parts is reduced, it also needs to meet the requirements of high strength. Thermoforming is a way to meet these requirements.
What is thermoforming moulding?
Thermoforming can be divided into vacuum forming and compression moulding according to the pressing method. Thermoforming is a special plastic processing method for processing thermoplastic sheets into various products. The sheet is heated to a softening state, and under the action of external force, it is close to the mould surface to obtain the same shape as the mould surface. After cooling and shaping, the product is finished after dressing. sheet is heated to about 950°c making the material more elastic. Even complex parts can be put into little material to form. After rapid quenching, the strength of 1500 n/mm can be reached.
Thermoforming mould manufacturer
MDC is the mature thermoforming mould manufacturer, all our thermoforming parts can meet the customer's high-quality requirements. MDC considers factors including product size accuracy, production quantity and cycle, part shape, etc. At the same time, we will also ask customers about the specifications of the thermoforming moulding machine, to help me provide us with good cooperation, high precision, Short cycle thermoforming die. Effective cooling system ensures high-quality parts.
Thermoforming applications
Thermoforming mould have various applications in almost all industries. MDC mould supply a variety of long-term accurate operation of the thermoforming moulds. It makes a variety of items used in the production of food, hotels, medicine, fast-moving consumer goods and other industries. Compared with other processing methods, thermoforming moulding has the advantages of cheap moulds and uniform thickness of the finished product. Its products include aircraft hoods, refrigerator door linings, automobile fenders, automobile chassis, soft drinking cups, and packaging materials And other products with uniform thickness.
Innovative technology is constantly applied and developed in the MDC. MDC mould ability to manufacture first-class thermoforming mould is based on long experience accumulation and high strength research. We will continue to serve the global mould market.