SMC mold heat treatment technology
Join Date: 2022-08-30
The SMC mold is an intelligent heat treatment, which also clarifies the structure of the mold, the materials used, the heat treatment technology, and the required temperature and stress during the heating process of the mold. So do you know the heat treatment technology for smc molds? Please see the details below.

The importance of SMC mold heat treatment process is unquestionable, and heat treatment technology is an important process to ensure the performance of SMC molds. It has a direct impact on the following properties of the smc mold.
Strength of SMC mold: improper heat treatment process, irregular heat treatment operation or incomplete heat treatment equipment, resulting in the strength (hardness) of the processed SMC mold not meeting the design requirements.
Manufacturing accuracy of SMC molds: uneven and incomplete structural transformation and excessive residual stress formed by heat treatment cause deformation of SMC molds during processing, assembly and use of molds after heat treatment, thereby reducing the accuracy of SMC molds and even scrapping.
The working life of the SMC mold: the unreasonable structure and excessive grain size caused by the heat treatment lead to the decline of the main properties such as the toughness, thermal fatigue performance, and wear resistance of the SMC mold, which affects the working life of the SMC mold.
Manufacturing cost of SMC mold: as the intermediate link or final process of smc mold manufacturing process, cracking, deformation and performance caused by heat treatment will cause the mold to be scrapped in most cases. Increase the working hours, extend the delivery time, and increase the manufacturing cost of the mold.
But everyone does not know that if you want the heat treatment technology to have better results, you need professional knowledge and skills, and you should know that the heat treatment technology and the quality of the mold are closely related, so the SMC mold The heat treatment technology is very important to the quality of the SMC mold.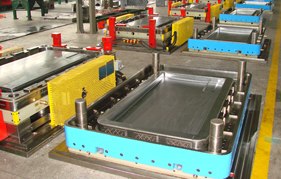 MDC Mould focuses on composite material moulds and moulding moulds. It is a very professional manufacturer of SMC moulds. It is also very mature in the technology of heat treatment of SMC moulds. The SMC moulds produced are highly appreciated by customers. If you have any needs, please contact us !