Specialize in Compression molds
---
What are the characteristics of Sheet Moulding Compounds?
Join Date: 2022-11-30
1. Has excellent electrical insulation properties. It can maintain good dielectric properties at high frequencies; free from electromagnetic effects, and does not reflect electromagnetic waves.
2. Chemical corrosion resistance. The sheet moulding compound is a reinforced polyester material with good corrosion resistance characteristics such as acid, dilute alkali organic solvents and seawater. In contrast, metal materials cannot do this.
3. Light weight and high strength. The specific modulus is equivalent to steel's, but the strength can reach four times that of steel. However, the typical 25% weight reduction achieved at similar strength to steel is the main benefit.
4. Long service life. A simulated aging test shows that their service life is more than 20 years, exceeding traditional materials such as metals.
5. SMC moulded parts have an accurate dimension, excellent finish surface, and modification cost is low.
6. Excellent Cosmetic Finish: Composites can be designed with a high level of surface detail. Parts can be offered in various thicknesses either coated with high gloss gel coats or with a paintable surface.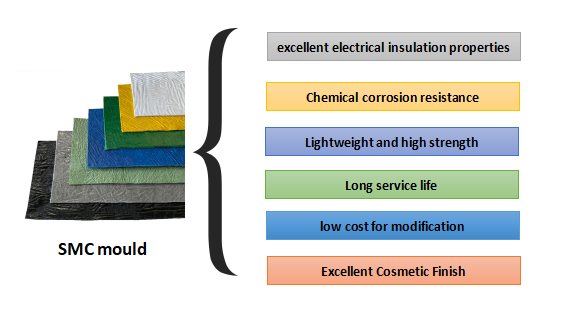 Copyright © 2020 MDC Mould | China best Compression Mould manufacturer